Shadowspec Serenity – Single Canopy Rotating Cantilever Umbrella
Our flagship single-canopy model which can be configured with a range of canopy sizes and colours with different mounting options to fit your outdoor space. Contact us for more information and design advice.
Precision Engineered Ambience
There are no internal moving parts, pullies, ropes or old-school crank or winding handles in the Shadowspec Serenity™. Just click the ShadowGlide™ handle and slide it up, with one finger if you wish, it's that easy.
---
The Serenity™ comes fully assembled in one box. Just put it on your mount and attach the canopy.
---
The combination of the gas-strut and patented sliding mechanism allows for the Serenity™ to be deployed or retracted in 3 seconds.
---
The canopies are easy to affix with eight stainless steel hex bolts holding it to the frame.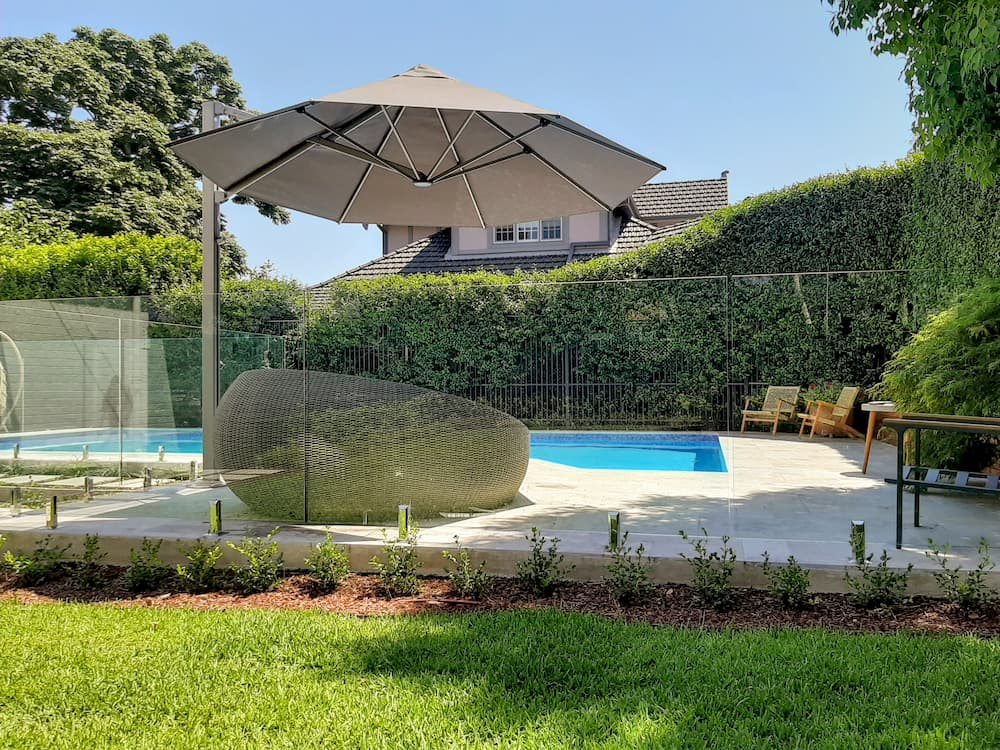 Patent Pending Technology
SHADOWGLIDE™
Brilliant engineering and a clever collaboration of working parts allow the Shadowspec Unity™ to open in one smooth motion. Use as little as 1 finger to deploy your umbrella in 3 seconds.
SHADOWHUB
The central hub features a built-in LED light that's easily controlled with an optional smart battery. Perfect for evening enjoyment of the outdoors.
SHADOWLIFT™
The gas-piston assisted lift allows for ease of use and removes the need for internal componentry that can break and ruin your day in the sun.
SHADOWLOCK™
The integrated wind-protection and umbrella rotation system allows for
all-day protection from the elements and 360-degree rotation of the umbrellas.
Serenity Size and Configuration
The Serenity™ has been designed & manufactured in New Zealand from marine-grade aluminium and stainless steel to stand up in all conditions. Every component has been built to work in total harmony with one another to give customers a premium, effortless experience, every time.
Octagonal - Canopy Size Options
Square - Canopy Size Options
Trend Colours Summer 19/20*
Full Sunbrella range is available as a custom colour option
*Lead times may vary for trend & non-stock colours.
Serenity Mounting Options
Surface Plate
For deck, patio and concrete mounting.
In-Ground Anchor
For mounting with a concrete footing.
Wall Fixings
For when ground mounting isn't possible.
Portable Base
For complete customised manoeuvrability.
Pavers are required for ballast and are not supplied. Optional castor wheels shown.
Octagonal Canopy Rotates 360° (Ground Mounted)
Square Canopy Rotates 360° (Ground Mounted)
Square & Octagonal Canopy Rotates 180° (Wall Mounted)



Customer satisfaction is Sydney Shades' number one priority. This Shadowspec model comes with extensive warranties on both the frame and fabric. This comprehensive guarantee reflects durability and high quality design, and ensures that your umbrella lasts throughout the years.
Photo Gallery From Happy Serenity Customers
3.5m Octagonal
4.0m Octagonal
Transform your outdoor space today!
Through our extensive knowledge, we are happy to offer design advice so you can find the right umbrella for your outdoor space.