SU2 – Cafe/Restaurant Umbrella – NEW FORM TEST
[av_fullscreen size='extra_large' animation='slide' autoplay='false' interval='5′ control_layout="]
[av_fullscreen_slide slide_type='image' id='1879′ position='top left' video=" mobile_image=" video_cover=" title='SU2 Cafe/Restaurant Umbrella' custom_title_size='40' custom_content_size='18' caption_pos='caption_right caption_right_framed caption_framed' link_apply='button' link='lightbox' link_target=" button_label='Download Brochure' button_color='theme-color' link1='manually,https://www.sydney-shade.com.au/wp-content/uploads/2016/12/SU2-Brochure-AUS.pdf' link_target1='_blank' button_label2=" button_color2='light' link2='manually,http://' link_target2=" font_color=" custom_title=" custom_content=" overlay_opacity='0.1′ overlay_color=" overlay_pattern=" overlay_custom_pattern="]
Extend your brand and impress your customers
[/av_fullscreen_slide]
[/av_fullscreen]
[av_one_full first min_height=" vertical_alignment=" space=" custom_margin=" margin='0px' padding='0px' border=" border_color=" radius='0px' background_color=" src=" background_position='top left' background_repeat='no-repeat']
[av_heading heading='Cafe Umbrellas – Commercial and Outdoor Cafe Umbrellas' tag='h1′ style=" size=" subheading_active=" subheading_size='15' padding='5′ color=" custom_font="][/av_heading]
[/av_one_full]
[av_one_third first min_height=" vertical_alignment=" space=" custom_margin=" margin='0px' padding='0px' border=" border_color=" radius='0px' background_color=" src=" background_position='top left' background_repeat='no-repeat']
[av_image src='https://www.sydney-shade.com.au/wp-content/uploads/2016/11/SU2-Trusted-for-21-years.png' attachment='1886′ attachment_size='full' align='center' animation='no-animation' styling=" hover=" link=" target=" caption=" font_size=" appearance=" overlay_opacity='0.4′ overlay_color='#000000′ overlay_text_color='#ffffff'][/av_image]
[av_hr class='default' height='50' shadow='no-shadow' position='center' custom_border='av-border-thin' custom_width='50px' custom_border_color=" custom_margin_top='30px' custom_margin_bottom='30px' icon_select='yes' custom_icon_color=" icon='ue808′]
[av_image src='https://www.sydney-shade.com.au/wp-content/uploads/2016/11/SU2-Frame-Warranty.png' attachment='1885′ attachment_size='full' align='center' animation='no-animation' styling=" hover=" link=" target=" caption=" font_size=" appearance=" overlay_opacity='0.4′ overlay_color='#000000′ overlay_text_color='#ffffff'][/av_image]
[av_textblock id ='1392′ title='yes' show_content='yes' style='normal' size=" font_color=" color="]
Get A Quote
[/av_textblock]
[/av_one_third][av_two_third min_height=" vertical_alignment=" space=" custom_margin=" margin='0px' padding='0px' border=" border_color=" radius='0px' background_color=" src=" background_position='top left' background_repeat='no-repeat']
[av_textblock id='1392′ title='yes' show_content='yes' style='normal' size=" font_color=" color="]
SU2 – The perfect solution to Cafe and Restaurant shade

Unique Features – SU2
Simple and easy to open and close
Heavy-duty Double Puller system
Commercial grade Pulley Rope
Glass-filled nylon high-performance Hubs and Brackets
Marine grade anodised Aluminium Frame and Pole
Stainless-steel Fastenings and Components
Commercial strength Pole; 38/48 diameter, one-piece pole with 2.5-3.0mm wall thickness
[/av_textblock]
[av_hr class='short' height='50' shadow='no-shadow' position='center' custom_border='av-border-thin' custom_width='50px' custom_border_color=" custom_margin_top='30px' custom_margin_bottom='30px' icon_select='yes' custom_icon_color=" icon='ue808′ font='entypo-fontello']
[av_textblock id='1392′ title='yes' show_content='yes' style='normal' size=" font_color=" color="]
Size & Configuration – SU2
All SHADOWSPEC SU2 Umbrellas have EIGHT full strength 20x33mm Strut Arms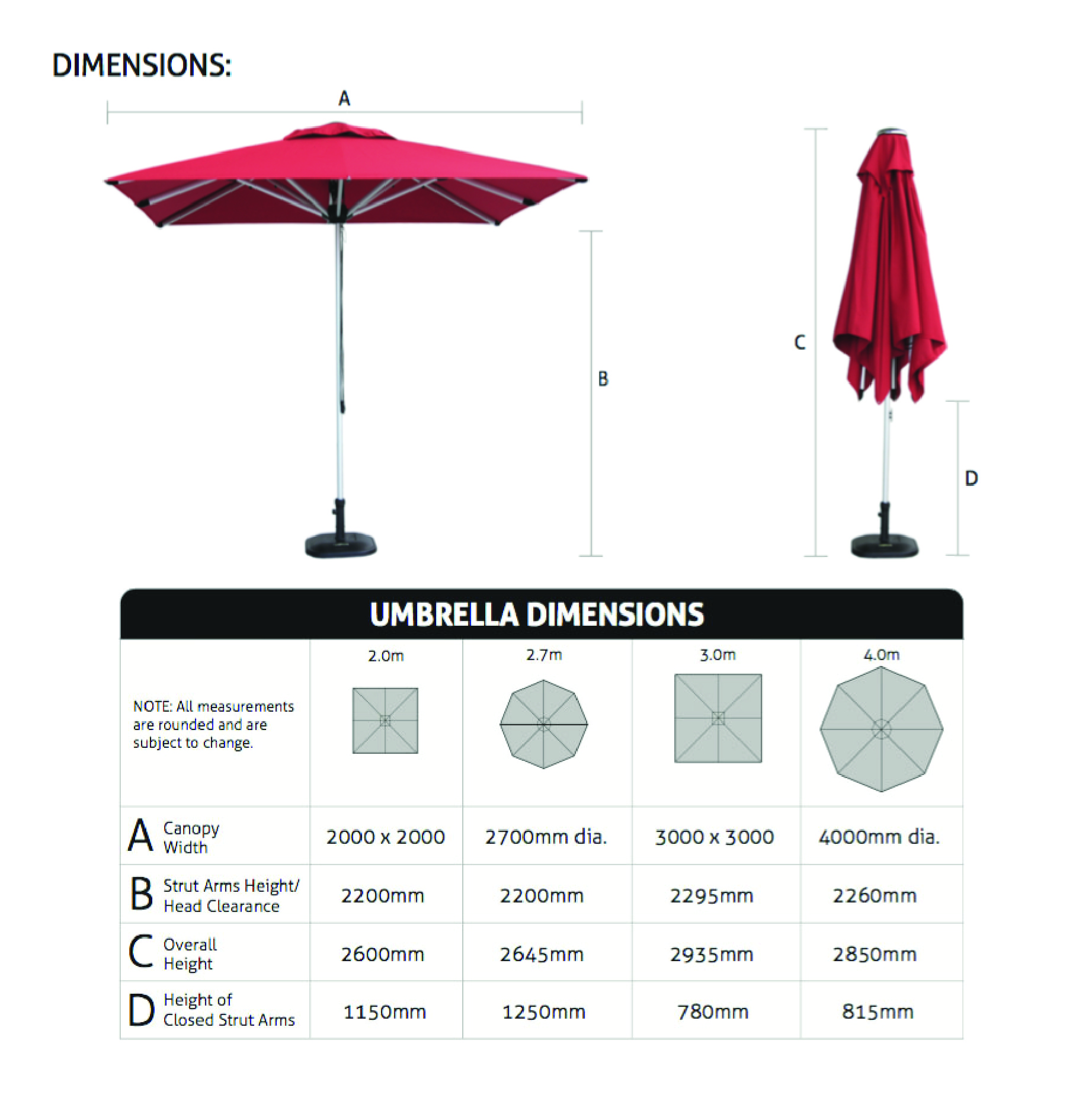 ---
Custom Branding – SU2
We specialise in Custom Branding Umbrellas with your Logo/Brand/Message
Free layouts, mockups and edits
Fast turnaround on proposals

---
Custom Options – SU2
The SU2 Umbrella is available in six standard colours.
The SU2 is customisable with different base and size options.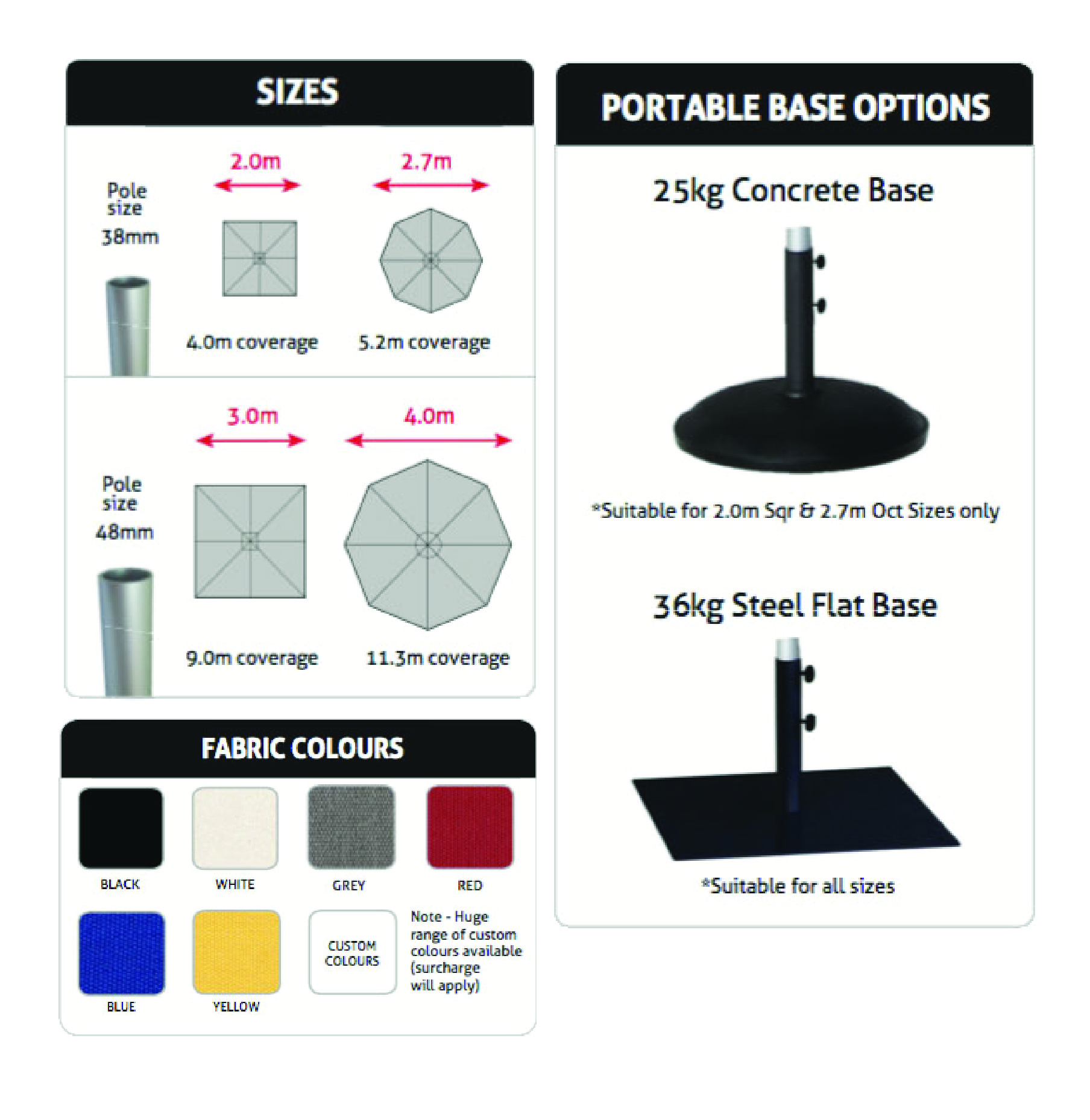 ---
Warranties – SU2
Are you concerned about quality?
Customer assurance and satisfaction is our No. 1 priority.
Every Sydney Shade Outdoor Umbrella by Shadowspec comes with an extensive warranty for customer assurance purposes.
The SU2 Umbrella carries a Frame warranty of 4 years*
[/av_textblock]
[av_textblock id ='1392′ title='yes' show_content='yes' style='normal' size=" font_color=" color="]

[/av_textblock]
[av_hr class='invisible' height='50' shadow='no-shadow' position='center' custom_border='av-border-thin' custom_width='50px' custom_border_color=" custom_margin_top='30px' custom_margin_bottom='30px' icon_select='yes' custom_icon_color=" icon='ue808′ font='entypo-fontello']
[/av_two_third]